US singer Axl Rose (C) of the US rock band Guns N' Roses performs during their concert in La Paz, Bolivia, 12 April 2014. The band performed for the first time in Bolivia in the frame of their Latin American tour. EFE
La Paz, Apr 13 (EFE).- The iconic U.S. rock band Guns N'Roses, headed by Axl Rose, charmed thousands of their fans on the weekend in the main stadium in La Paz, where they played for the first time on a Latin American tour.
On Tuesday Duff McKagan Plays First Show With Guns N' Roses In 17 Years was a top story. Here is the recap: (hennemusic) Former Guns N' Roses bassist Duff McKagan played his first full show with the band in 17 years in Buenos Aires, Argentina on Sunday and video from the event has surfaced online.<p…
In a brand new interview with RockRevolt Magazine, former SKID ROW singer Sebastian Bach was asked what he thinks the biggest misconception is about him on the part of the people who don't really know him. "That I'm hard to work with, that would be the biggest misconception," he replied.
SLASH ANNOUNCES THIRD SOLO STUDIO ALBUM OUT THIS SEPTEMBER
"Aerosmith is one of my all time favorite bands, and one of the greatest rock & roll bands of all time," says
Slash says that he is not concerned about Duff McKagan's reunion with Axl Rose and says that he will never get a similar call to play with the Guns N' Roses frontman. McKagan played the first of five shows with his former band this past Sunday night (April 6) at Estadio Ferrocarril Oeste in Buenos Aires, Argentina. McKagan is filling in for GN'R's current bassist, Tommy Stinson, during the group's South American tour because Stinson is reuniting with THE REPLACEMENTS for two high-profile dates at Coachella.
Zakk Wylde's quarter-century career as shred master supreme is signposted by landmark works like Ozzy Osbourne's No More Tears, his own bands Black Label Society and Pride & Glory, and even brief stints with The Allman Brothers Band (filling in for a gig in 1993) and Guns N' Roses (joining Slash and co in the last days of that particular G'nR era). But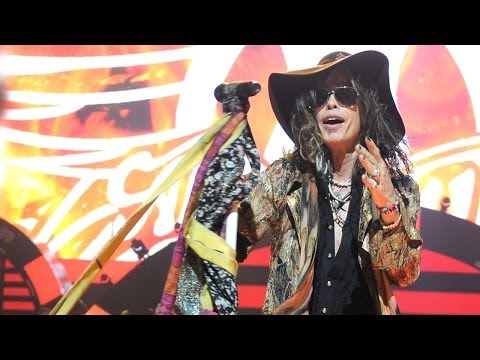 ">
As we mentioned yesterday, When announcing their summer tour yesterday, Slash joined Aerosmith
AEROSMITH performed a concert earlier today (Tuesday, April 8) at the famous Whisky A Go Go, a West Hollywood club they last played in 1973. The half-hour, invite-only show was part of a press event announcing the band's upcoming
Legendary GUNS N' ROSES guitarist Slash will jam a few tracks with MOTÖRHEAD tomorrow (Friday, April 11) at Club Nokia in Los Angeles, California. Slash will also perform select cuts with MOTÖRHEAD at both of the band's Coachella Valley Music and Arts Festival